2023-03-10 14:25:00

A motorist who killed a graduate after driving the wrong way down a major road during a high-speed police chase has been jailed for 14 years.
Grace Payne, 21, was a passenger in an Uber when it was hit by a stolen van driven by Ashley Loveday, 39, on 25 November last year.
Loveday, who had cocaine in his system, crashed head on into the Toyota Prius taxi on the A13, a major arterial road linking central London with east London and south Essex, around 2.35am.
Moments earlier he drove through red lights and pedestrian crossings, repeatedly ignoring speed limits.
Loveday, who has never had a driving licence, travelled up to 97mph in a 30mph zone and between 70-90mph on a 50mph zone on the A13 – with experienced officers describing how they had "never seen" such dangerous driving.
He was also banned from the road for almost 20 years when he was sentenced at the Old Bailey on Thursday.
Ms Payne, from Upminster, east London, died at the scene.
The Uber driver, Sundar Ali, 59, survived but suffered life-changing injuries and has been left "traumatised", the court heard.
Ms Payne, described as "caring, compassionate, bright, funny and bubbly", graduated with a degree in history and philosophy from the University of Kent.
She was "happily" working in HR and had been on her way home after joining work colleagues on a regular Thursday night out when the crash happened.
'Our daughter will never be coming home'
"Tragically, she never made it home," her parents said in a statement.
"Nothing could have prepared us [for what happened]," they added.
"We are struggling to come to terms with the fact that our daughter will never be coming home."
Grace was "starting to live life to the full after the confinements of COVID-19" and had been travelling around Europe with friends.
Her parents said she "made them proud in so many ways," adding: "Her friends always said that she had the ability to brighten up their day.
"When she walked out of a room, she left everyone feeling happier than when she had walked in.
"She always wanted to help, always wanted to make people happy."
Police pursuit
Loveday was pursued by police after the stolen vehicle activated ANPR (Automatic Number Plate Recognition) cameras.
Officers tailed him on the correct side of the road but abandoned the chase after he joined the A13, deeming it "too dangerous" to follow him.
He travelled for more than a mile and a half against oncoming traffic before colliding with the Uber.
Mr Ali had "no chance at all" to avoid the oncoming Peugeot Boxer van, the Old Bailey heard.
He was taken to hospital with a wounded spleen and numerous fractures and also suffered impaired brain function, painful headaches and forgetfulness.
He has now lost his income and fears he will never get his physical strength back.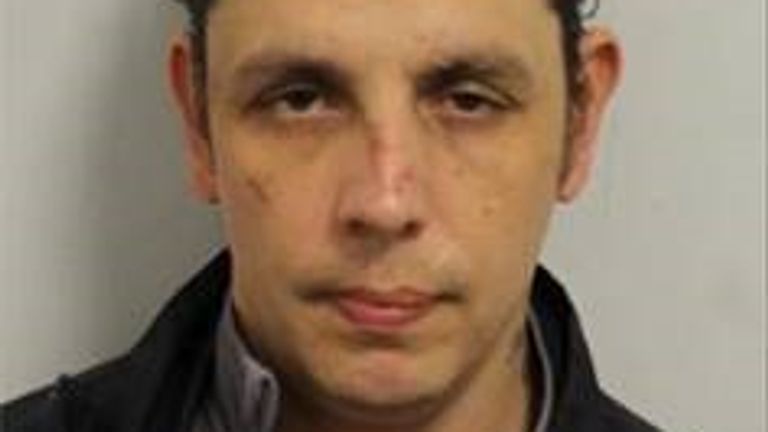 Loveday was taken to hospital with non-serious injuries but was discharged after a month.
He was then charged and remanded in custody.
The motorist has been convicted of 81 offences on 54 occasions between 2000 and 2022, with previous convictions including aggravated vehicle taking, wounding, affray and assault occasioning actual bodily harm.
He pleaded guilty to causing death by dangerous driving, causing serious injury by dangerous driving and aggravated vehicle taking at an earlier hearing.
Read more on Sky News:
How Cardiff car crash unfolded – as police face criticism over response
Exclusive: Best friend found Cardiff crash wreckage after spotting 'tyre marks'
Judge Mark Dennis KC told Loveday his actions caused "indescribable anguish for many" and "irreparable harm".
"It was perhaps only pure chance that others were not also harmed at one stage or another in that dreadful course of driving," he added.
He was banned from driving for a total of 19 years and four months.
Essex Police has referred itself to police watchdog the Independent Office for Police Conduct, which has launched a separate investigation into the circumstances of the crash.
#Grace #Payne #Van #driver #Ashley #Loveday #killed #graduate #crashing #Uber #police #chase #jailed

Source by [earlynews24.com]