2022-09-23 01:00:00

Michael Ball is such an effortless singer, it doesn't come as a surprise when he bursts into song part way through our conversation. The musical theatre star is speaking over the phone from England before his visit to Australia in late September.
In 1985, Ball made his West End debut as idealistic young student Marius in Les Miserables, the classic musical theatre adaptation of Victor Hugo's epic 19th-century novel set during France's June Rebellion of 1832. It's while explaining a variation he added to his part in Red and Black in Les Mis that he slips into song, with what is widely acclaimed as one of the greatest theatre voices ever lilting down the phone.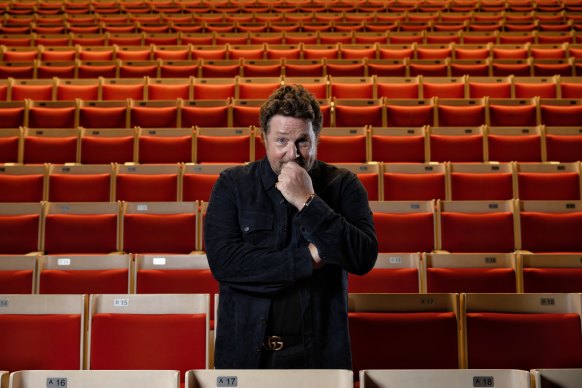 Performers, when preparing to audition for Les Miserables' composers Alain Boublil and Claude-Michel Schonberg, would often learn the songs from cast recordings.
"They'd go to the audition and copy my section of Red and Black where I have a slight variation in the line 'My world if she's not there'. Alain and Claude would always stop them straight away to say: 'No one else is ever allowed to sing it that way, only Michael'," Ball says. "It was very nice of them. I just put a bit of Elvis in there."
As he sings the whole verse, it's clear that although he thinks adding an Elvis croon sound to the much-loved music is only a small thing, his impact and musical instinct is as significant as ever.
"Within the parameters, you have to be very careful because the audience is coming to see the songs they love and you want to deliver them as best you can," he says. "It would be wrong to change something around just for the sake of it."
Loading
In many ways, Ball has come full circle with Les Miserables. It's a show he regards as his family though he has gone on to triumph in so many other musicals, stepping into the role of Raoul in The Phantom of the Opera after Les Miserables. But, such is his musical theatre range that he's won Oliviers for vastly different shows – the title role in Sweeney Todd and, most recently, as Edna Turnblad in Hairspray. He has a new album on release with fellow Les Miserables dignitary Alfie Boe and he even has his first work of fiction being released next month.
"I had always sung, encouraged by my family and my grandmother especially," he says. "People told me I had a nice voice, but it wasn't until I was in Godspell and realised people were prepared to give me money to sing and I saw the effects of musical theatre on an audience, that I realised it wasn't a pipe dream."
#Owning #Les #Mis #allowed #sing #Michael

Source by [earlynews24.com]