2022-06-27 11:11:20

As a player, Billy Slater lived for these sorts of moments. So did his assistant coaches, Cameron Smith and Johnathan Thurston. Backs to the wall, do-or-die, bleed for the jumper; crank the Queensland Spirit ™ up to 11.
When Slater was active, things almost always went according to script. After a while, the fairytale started to become a grim inevitability for NSW. If Slater didn't put the Blues out of their misery, he need only hope one of Thurston or Smith, or Greg Inglis, or Cooper Cronk, among others, had a decent night at the office.
Now he must hope a new generation of Maroons can find a way to conjure a comeback and lift the shield at Suncorp Stadium when the series heads north for a decider on July 10. A heavy defeat in Perth made for ugly viewing if you weren't clad in sky blue. Slater's to-do list just tripled in size.
Much has been made of the value of having the Holy Trio of Slater, Smith and Thurston leading the Maroons. For some of the squad, they are former teammates. To others, they are nothing less than childhood heroes.
That seemed to translate into an ability to go above and beyond in game one, when they found level upon level to steal the march in Sydney and head to Perth with a 1-0 lead. In the west, it looked more like the V'landysball romps of 2021 as NSW scored tries for fun in the second half.
Just like that, the honeymoon was over for Slater, who had been lauded for a fortnight for his tactical acumen and calm direction. Brad Fittler had made key changes, to devastating effect, while Queensland held on for dear life before tumbling off the edge.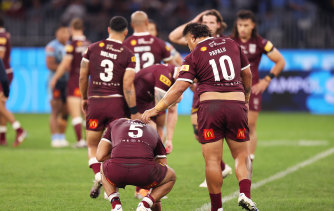 Slater is smart enough to know that a return to Queensland's famous stronghold at Suncorp Stadium won't be enough to undo the damage wrought on his side in Perth. He has questions to confront and tweaks to make if they are to rise again in this series.
It all begins through the middle of the field and on that front, the Blues put Queensland on the canvas. Maroon stalwart Josh Papalii, who has been in damaging form for the Raiders, has managed just 72 metres across 47 minutes in two games. Slater simply must get more from the Canberra prop or make the difficult call to look elsewhere.
#honeymoon #Slater #pressure #mounts #decider

Source by [earlynews24.com]