2022-06-27 18:21:52

St Kilda star Brad Hill was involved in an altercation at a bayside bar last weekend, but the club was adamant no players were dropped or disciplined for the incident.
It remains unclear whether fellow Saints star and Hill's cousin Paddy Ryder was at the bar when the incident took place.
Hill missed Saturday's deplorable defeat at the hands of Sydney due to personal reasons, while Ryder was "managed".
St Kilda told The Age late on Monday that the pair was involved in a verbal altercation at a pub in Mordialloc on Saturday.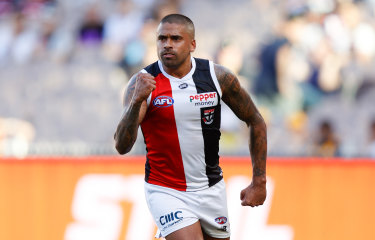 But Ryder took to social media late on Monday night claiming that he had nothing to do with the incident.
"I wasn't involved in any altercation which has come through the media outlets tonight. Just want to make that clear. Anyone have anything different to say please come forward, show your face and name yourself. I'll wait. Good night all."
St Kilda told The Age there was no fight or brawl, as was reported on Perth radio, but instead a verbal altercation.
Security at the bar intervened, which is when Hill, Ryder and a third St Kilda player left immediately.
St Kilda confirmed to The Age that none of the players were disciplined over the incident. The third player, believed to be Ben Long, played against Sydney.
#Saints #star #verbal #altercation #bayside #pub

Source by [earlynews24.com]