2022-05-25 18:20:05

At the end of another forgettable season for the A-Leagues, here's some much-needed good news: there are still loads of people who love football in Australia and are happy to pay money to watch it live. The challenge, as it has been for decades, is grabbing their attention.
Could this do it? By far the biggest sporting crowd in Sydney since the pandemic, 70,174 fans, watched Barcelona claim a thrilling 3-2 win over the A-Leagues All Stars at Accor Stadium on Wednesday night – the first in a packed schedule of glamour friendlies that will be played here during the European off-season.
The second-biggest crowd? That was football, too, when 41,582 came to the same venue in March to see Australia's direct World Cup qualification hopes disintegrate as the Socceroos fell 2-0 to Japan.
These big turnouts show that despite the domestic game's many and varied woes, there is still a vast appetite for the beautiful game in Australia, and an audience waiting to be tapped into – if only those in charge of the A-League can come up with the right formula to seduce them.
Where are all these people when the A-League's on? Doing other things, clearly. There's a grand final to be played in Melbourne on Saturday night, but the vast majority of the theatre-goers who dug out the old "Messi" jerseys from the back of their wardrobes and paid big money to catch a glimpse of Barcelona's maiden voyage to Australia probably wouldn't have a clue who's in it.
Nights like these have to be somewhat helpful. The fear was they might embarrass the A-League's good name but the All Stars were terrific, coming from a goal behind after Ousmane Dembele's first-half opener to briefly go 2-1 up through Reno Piscopo and Adama Traore – the Western Sydney Wanderers left-back, not his namesake on the wing for the Blaugrana, who would go on to score the equaliser in the 72nd minute.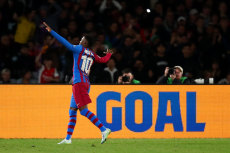 Traore's goal – for the All Stars – capped off a mesmerising team move, and it should have been followed by a third from Garang Kuol, the 17-year-old sensation from the Central Coast Mariners who did all the hard work to weave through Barcelona's defence, but missed the open goal that was at his mercy. Over the course of the match, you could almost feel the crowd warming to the All Stars.
This Barca team, having struggled badly in La Liga and the UEFA Champions League this season, is a long way from the peak of the all-conquering side Pep Guardiola put together last decade. Having landed on Aussie soil barely 36 hours earlier, new coach Xavi named five of the players who started their last official fixture, and as you'd expect at the end of such a long campaign, they did things pretty easy.
#Barcelona #scrape #night #dreamers

Source by [earlynews24.com]