2022-04-16 19:31:00

Aliza Knox, who has held senior roles at Google, Twitter, Visa, BCG and Cloudflare, and is the author of Don't Give Up Your Day Job, says bosses must prioritise the employee experience as a matter of urgency.
"Retention is the new black," she told the Sydney Morning Herald and The Age. "The cost of retaining people is less than the cost of finding someone new and rehiring, and all the friction that comes with it."
During the pandemic, Knox says in-person communication dropped off a cliff, burnout rates skyrocketed, and work – which became predominantly remote – became somewhat less civil.
As managers cajole workers back into the office, staff will want to feel appreciated. "I think a lot of times the employees are valued, but no one expresses it," she says. "You need to say thank you more. It goes a long way."
Knox also believes it's imperative managers are clear on the "why" of showing up to the office. "Why do you want people there? Is it to build teamwork, to build collaboration?"
For this reason, Imber is sceptical of how effective small-scale incentives will be. "For the majority of people, it's seeing fellow people who they really enjoy spending time with that's going to be the critical motivator."
It's the difference between a "deep intrinsic motivating force" as opposed to "extrinsic", "tokenistic" ones.
"I don't think anyone's going to come in for free coffee vouchers."
Shifting spaces
To accommodate for hybrid work, offices – far from being consigned to the history books, as some were predicting early in the pandemic – are being reimagined to make way for collaboration instead of cubicles.
Twitter, headquartered in Silicon Valley, announced its "work from home forever" policy in May 2020. The social media giant's Australian office has kept to the spirit of this in what they call a "no pressure" approach.
Their office has been segmented into three zones: "focus" for heads-down, quiet work; "collab" for group meetings; and "social" for highly engaged social activities. Even though workers could well choose to never step foot in the office again, it still plays an important role, acting managing director Angus Keene insists.
"It's all about giving people choice. And a flexible workforce is foundational to building a team that is both diverse and inclusive."
Meanwhile, SafetyCulture has recently opened the doors on their brand-new $38 million new office digs in Sydney's Surry Hills. The nine-floor space features three bars, a games room and nine meeting rooms that are themed based on their clients, such as Cathay Pacific, Toyota, and IKEA.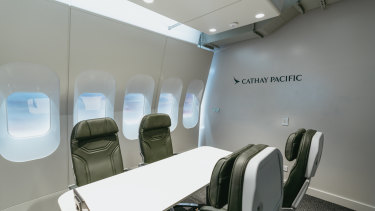 When the COVID-19 crisis came along, the company had to make a judgement call on whether to push ahead with the multi-million dollar building, but chief financial officer John Blake says it was an easy decision.
"I think that we viewed the investment in this space as a real investment in our people," Blake says. "Through the pandemic, you had a lot of [people saying]: 'I can't wait to get back into the office'."
People were eager to return because it doesn't "feel like a traditional office," he adds. "I think having a space that you can come and feel proud of, and puts the customer at the centre – it's just a reminder of what we're all here to do."
But Imber – who employs 11 remote workers and whose consultancy is one of the very small handful of Australian companies that have implemented a four-day working week – doesn't believe that employers have to earn the commute at all.
Loading
"There's a false belief from many leaders that collaboration and innovation happens best face to face. But there's no evidence or scientific research that conclusively supports that," she says.
In any case, employers will need to give their staff a compelling reason to stay.
"The war for talent is so crazy people are being offered sign-on bonuses to the size of which has never been seen before. We're talking 50 per cent of their salary," says Imber. "That's what you're competing against."
The Business Briefing newsletter delivers major stories, exclusive coverage and expert opinion. Sign up to get it every weekday morning.
#Retention #black #Bosses #earn #commute #pay #price

Source by [earlynews24.com]