2022-01-22 00:30:00

ZWIFT
Highlights: With its racing bikes, strong global cycling community and ability to control training conditions such as terrain and weather, Zwift has many serious cyclists hooked. But there is fun to be had for amateurs too.
There are training plans that range from beginners to professionals, structured workouts and choose-your-own adventure virtual cycling routes that take you through the likes of London, New York, Austria, and Paris. Performance feedback, the real-time ability to see how many other riders from around the world you are cycling with, and the chance to have avatar-to-avatar tussles give depth to the exercise-bike experience.
Lowlights: While there are cool virtual locations to explore, the graphics are not on par with the latest virtual reality games. Also, along with the app at $20 a month, you need a bike and smart trainer too, which all adds up. With that kind of financial investment, you need to be committed.
Recommend it? Zwift will augment the training of dedicated cyclists while amateur cyclists, who don't want to deal with road rage or wild weather, will develop fitness and confidence. The online cycling community here and gaming aspect is strong too, making Zwift true to its slogan: it makes indoor cycling fun.
Cost: App membership is $22 per month after a seven-day free trial. A Wahoo Kickr Smart Trainer (to go with whatever bike you have) costs $1799.95
– Sarah Berry
iFit's NORDICTRACK
Highlights: From intervals on Maui's Hana Highway, a rift race in the highlands of Iceland and in-studio SoulCycle-style sweat sessions guided by super-fit trainers – who absolutely believe in you! – there really is something for everyone on NordicTrack's S22i bike. Filter workouts by duration, intensity, target area, environment and trainer, and have your incline and resistance adjusted in real-time by your instructor. Also, the fan and padded seat make for a comfortable ride. But it's not just for cycling: the machine comes with hand weights and, like the Peloton, the display rotates giving users the freedom to jump off their bike and stream a yoga or HIIT class.
Lowlights: I became slightly addicted to the studio sessions with certain trainers who struck the right balance of motivation, entertainment and minimal cheese but after a handful of workouts together their tales of ironman triumph became repetitive and slightly irritating. For my 6am rides, I often muted the machine, popped the subtitles on and listened to a podcast instead.
Recommend it? The versatility of workouts on offer is a big drawcard and I can see how iFit's 6 million users globally can justify the upfront cost given the machine's overall value which goes beyond an indoor bike alone.
Cost: The S22i bike is $3999. It comes with a 30-day free iFit membership. A one-year family membership is $549, but currently on sale for $479.
– Julia Naughton
TECHNOGYM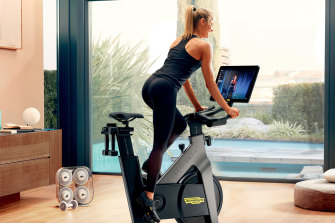 Highlights: Slick and smooth to ride, these made-in-Italy babies are sturdier than their counterparts, Peloton (its max user weight is 160 kilograms compared with Peloton's 130 kilograms) and quieter to ride too.
They have a similar extensive library of content (a mix of livestreamed classes, on-demand and nature-rides that take you through various urban and natural landscapes around the world) though, from what I could see the instructors are a little less come-hither, which is either a plus or a minus depending on your point of view.
Added benefits of Technogym (the company launched in 1983 and has been the official supplier of the Olympic Games since 2000) include the ability to connect to apps like Netflix and YouTube if you want to tune out while you ride (or have the cues from class as pop-ups while you watch a show). Plus, a limited amount of content is made available with the purchase of the bike (everything else is part of the monthly subscription).
Lowlights: It ain't cheap (see costs below) and the content might not be as sleek as Peloton's.
Recommend it? It might not be as overtly sexy as the Peloton, but this silent, sturdier contender might just be the stayer. Well-constructed and with plenty of good content and biofeedback, there is a lot to love about Technogym.
Loading
Cost: $4590 outright plus membership starting at $49 a month.
– Sarah Berry
Make the most of your health, relationships, fitness and nutrition with our Live Well newsletter. Get it in your inbox every Monday
#trialled #athome #bikes #Heres #verdict

Source by [earlynews24.com]